In the world of gardening, a well-maintained garden hose is your trusty companion, essential for nurturing your green oasis. But why settle for a standard hose when you can take the reins and craft your own personalized watering system? Welcome to "Mastering Your Garden: DIY Garden Hose Solutions," where we'll delve into the exciting realm of do-it-yourself garden hose projects. From innovative nozzle attachments to clever storage ideas, this blog is your gateway to a world of garden hose customization. Join us as we explore practical solutions, unleash your creativity, and elevate your gardening game to a whole new level. Whether you're a seasoned horticulturist or a gardening novice, these DIY garden hose solutions will empower you to irrigate your way to a flourishing, beautiful garden. Within this resource, you'll find a bountiful source of knowledge, providing a treasure trove of insights and practical advice to elevate your gardening experience.
The Multi-Purpose DIY garden hose
Your garden hose is more than just a dull, green tube. It's a lifeline for your beloved plants. Let's explore some ways to enhance its functionality.
Rainbow of Watering Patterns
The ordinary garden hose can provide a rainbow of watering patterns. Use a hose nozzle with multiple settings to create a gentle mist for delicate flowers or a powerful jet for cleaning your garden tools. With the right attachment, you can even water your hanging baskets effortlessly.
A Quicker, Easier Way to Water
Tired of lugging heavy watering cans around? Your garden hose can be your savior. Attach a spray wand or sprinkler head to reach distant plants with ease. You'll save time and energy while keeping your plants happy.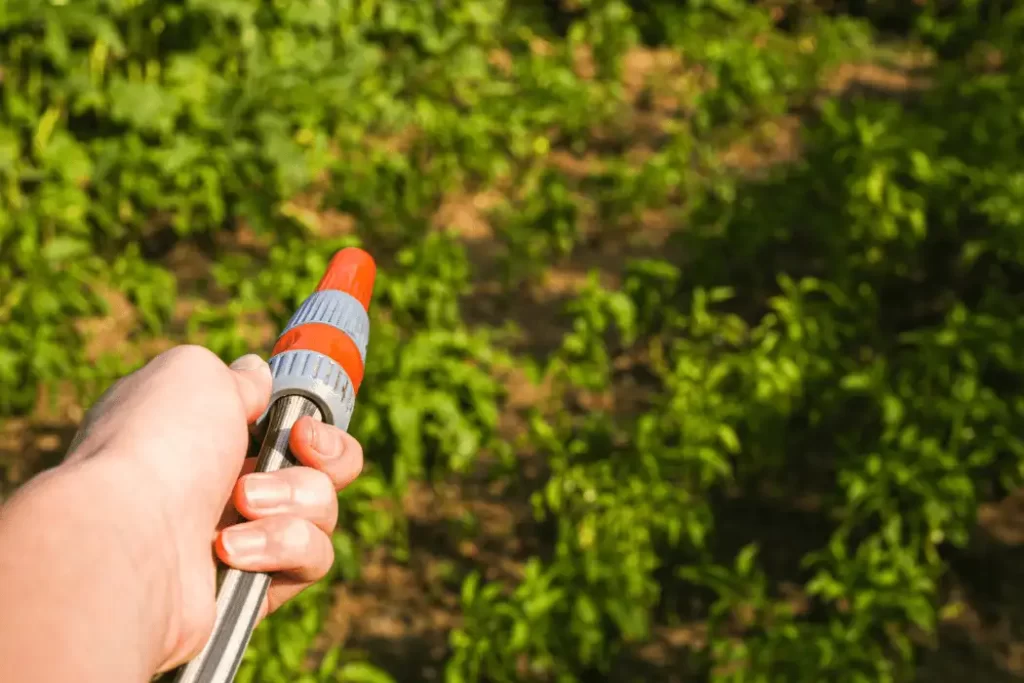 Hose Reel Cart for Easy Storage
One of the biggest challenges for gardeners is storing the garden hose. That's where a hose reel cart comes in. Easily wind up your hose on this portable cart, making it a breeze to move and store. No more wrestling with a tangled mess!
DIY garden hose Wreath
Turn your garden hose into a welcoming masterpiece. Craft a unique wreath using your old or extra hoses. Coil and shape the hose into a circular design, securing it with zip ties. Add some faux flowers, and voila! You've got an eye-catching garden-themed wreath to greet your guests.
DIY Soaker Hose for Deep Root Watering
Want to keep your plants hydrated without wasting water? Transform your garden hose into a soaker hose. Simply poke holes along the length of the hose, and you have a cost-effective and eco-friendly solution for deep root watering.
Hose Hideaway Box
Tired of your garden hose sprawling across your yard like a dragon guarding its treasure? Create a hose hideaway box! It's like a home for your hose, keeping it coiled neatly and out of sight. With a stylish box, it can even become a decorative element in your garden.
Hose Garden Art
Elevate your garden's aesthetics by using the hose itself as art. Shape your hose into unique designs, like spirals or waves. Lay it on the ground to create intriguing pathways. With a little imagination, your garden hose can be a canvas for your creativity.
Rain Barrel Diverter
Conserve water and reduce your water bill by setting up a rain barrel diverter system. Attach your hose to the diverter, and let it collect rainwater for you to use in your garden. It's a win-win for both your wallet and the environment.
Garden Hose Basket
Tired of your gardening tools scattered around? Craft a sturdy and stylish basket out of your old garden hose. Coil the hose into a circular base and secure it with wire. Shape the remaining length into a handle, and you've got a unique organizer to keep your tools handy.
Hose-Connected Watering Can
Don't have a watering can on hand? No worries! Turn your hose into a makeshift watering can by attaching a showerhead nozzle. It's a mobile refreshment station for your thirsty plants, and it's so easy to carry around.
Hose Guide for Easy Navigation
Navigating your hose around your garden can be tricky. To avoid damaging your delicate plants, create hose guides using old broom handles or wooden stakes. Your hose will effortlessly glide through your garden like a river winding through a forest.
DIY garden hose Stand
If you're tired of the hose lying on the ground, make a DIY hose stand. It's like a regal throne for your hose. Elevate it off the ground, making it easier to access, and adding a touch of elegance to your garden.
Repurposed DIY garden hose
Why stop at the garden? Repurpose your old hose into something extraordinary for your home. Coil it into a doormat or shape it into wall art. The possibilities are endless, and you're not only reducing waste but also adding a unique touch to your living space.
Conclusion
Your DIY garden hose is now a versatile tool, allowing you to nurture your garden with precision and care. As we wrap up this exploration, remember that the power of DIY is in your hands. Whether you're using clever storage solutions, custom nozzle attachments, or innovative watering techniques, your garden hose can be a true reflection of your gardening passion. So, continue to explore, innovate, and let your DIY garden hose be your trusted partner in cultivating the garden of your dreams. Happy gardening!