Have you ever heard of Nance fruit? If not, you're in for a delightful surprise. Imagine a tiny golden gem from the heart of the tropics, bursting with flavor and health benefits. Nance fruit, often described as "tropical candy," is a hidden treasure waiting to be explored. In this blog, we'll take you on a journey through the lush world of Nance, unveiling its origins, unique taste, and its incredible impact on your well-being. Get ready to tantalize your taste buds and discover why Nance fruit is the tropical gem you absolutely need to try.
What in the World is Nance Fruit?
First things first, what exactly is Nance fruit? Well, it's a tiny, golden-yellow fruit that grows on a tropical tree called Byrsonima crassifolia. This tree, also known as the Nance tree, is native to Central and South America and is often found in Mexico, the Caribbean, and parts of South America. Nance fruit is about the size of a grape and is often sold fresh, but it can also be found in various processed forms like jams, jellies, and even liquors.
Read more about Blue bananas here.
The Nutritional Treasure Trove
Now that you're craving this sunshine fruit let's talk about its nutritional value. Nance fruit is not just about great taste; it's a nutritional powerhouse. It's rich in vitamins, particularly vitamin C, which is essential for a robust immune system and healthy skin. This little fruit also packs a punch when it comes to minerals, boasting a good amount of potassium, iron, and calcium.
Moreover, Nance fruit contains antioxidants that help fight off those pesky free radicals in your body, reducing the risk of chronic diseases. So, if you're looking for a natural way to boost your health, Nance fruit is a fantastic choice.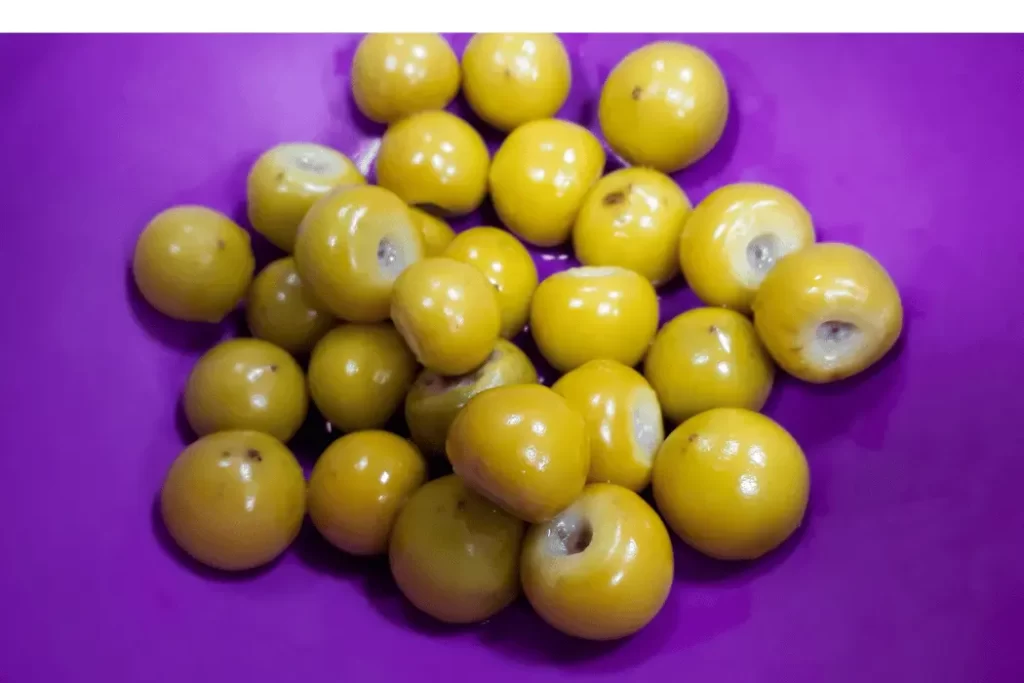 The Versatile Culinary Star
You might be wondering, how do you use Nance fruit in your culinary adventures? Well, you'll be pleased to know that it's incredibly versatile. Here are a few delicious ideas to get your creative juices flowing:
1. Nance Smoothies
Blend Nance fruit with some yogurt, honey, and ice for a refreshing and healthy smoothie. The tangy twist will give your morning routine a delightful kick.
2. Nance Salsa
Nance fruit adds a tropical flair to your regular salsa. Combine it with tomatoes, onions, cilantro, and a bit of jalapeño for a spicy twist.
3. Nance Jam
Spread Nance jam on your toast or use it as a filling for pastries. It's a unique and delicious alternative to your usual fruit spreads.
4. Nance Cocktails
For a taste of the tropics in a glass, muddle Nance fruit in your favorite cocktail. The exotic flavor will transport you to a beach paradise.
Nance Fruit: More Than Just a Fruit
Beyond its culinary uses, Nance fruit has cultural significance in many countries where it grows. In Mexico, for instance, it's often used in traditional medicine for its purported healing properties. The fruit is believed to help with digestive issues, and its leaves are sometimes brewed into a soothing tea. It's incredible how one small fruit can have such a significant impact on a culture's health and well-being.
Exploring the Nance Tree
Now, let's take a stroll through the Nance orchard and get to know the tree itself. The Nance tree is a small to medium-sized tree, typically reaching about 5-10 meters in height. It has lush, green leaves and, during certain times of the year, bears clusters of these golden gems.
One remarkable thing about Nance trees is that they can tolerate a wide range of soils and climates, making them adaptable to various regions. This adaptability is why you can find Nance trees in countries with diverse environments, from hot and humid to arid and semi-arid.
Harvesting the Sunshine
Harvesting Nance fruit is a labor of love. It's done by hand, usually during the summer months when the fruits are at their ripest and most flavorful. Picking Nance fruit can be quite a challenge due to their small size, so it's a job that requires patience and a gentle touch. But the reward is worth it, as each fruit holds a burst of tropical sunshine.
The Health Benefits You Can't Ignore
Now, let's delve into the health benefits of Nance fruit. This unassuming fruit has a lot to offer:
1. Immune Boost
As mentioned earlier, Nance fruit is loaded with vitamin C. This vitamin is a natural immune booster, helping your body fend off illnesses and infections. Incorporating Nance into your diet can be a tasty way to keep those pesky colds at bay.
2. Digestive Aid
Nance fruit is known for its digestive properties. It's often used to alleviate stomach discomfort and help with indigestion. Plus, it's a natural source of fiber, which keeps your digestive system in tip-top shape.
3. Antioxidant Power
The antioxidants in Nance fruit are like your body's shield against oxidative stress. They help protect your cells from damage, potentially reducing the risk of chronic diseases like heart disease and cancer.
4. Skin Saver
The vitamin C in Nance fruit also works wonders for your skin. It promotes collagen production, keeping your skin looking youthful and vibrant.
Nance in Traditional Medicine
In many tropical regions, Nance fruit has been used in traditional medicine for generations. It's believed to have various healing properties, including the ability to soothe sore throats, treat fevers, and even relieve the symptoms of the common cold. While modern medicine has come a long way, it's fascinating to see how this humble fruit still holds a special place in the hearts of many communities.
Nance Fruit: A Culinary Adventure
Nance fruit isn't just a fruit; it's an experience. When you taste it, you're transported to a world of tropical wonder. It's the taste of the Caribbean, the essence of Mexico, and the spirit of South America, all in one tiny, golden package.
The Future of Nance
As the world becomes more interconnected, the Nance fruit is gaining recognition beyond its native regions. Its unique flavor and remarkable health benefits are making it a sought-after ingredient in kitchens and households worldwide. With the global trend toward healthier, more natural foods, Nance fruit is positioned to become the next superfood sensation.
Conclusion
more than just a tropical treat. With its unique flavor, nutritional richness, and cultural significance, Nance fruit has proven to be a versatile and health-boosting addition to your culinary repertoire. So, whether you're enjoying it fresh, blended into a smoothie, or as a delightful topping, Nance fruit is a tropical delight that brings a slice of paradise to your plate. Don't miss out on the chance to embark on this delicious journey to the heart of the tropics. It's time to savor the taste of sunshine with Nance – your taste buds will thank you!