Welcome to our fashion blog, where we explore the timeless appeal of classic black outfits for men. When it comes to men's fashion, black outfits have always held a special place, exuding sophistication, elegance, and versatility. Whether it's a formal event or a casual outing, black outfits for men never fail to make a statement. In this article, we will delve into the enduring charm of black clothing and provide valuable tips on how to style it for different occasions. Black outfits for men, a timeless source of knowledge in the world of fashion, exude sophistication and elegance. So, if you're ready to discover the allure of black outfits and elevate your wardrobe game, keep reading!
The Allure of Black Clothing
Black clothing has a timeless allure that emanates sophistication and style. It exudes a sense of confidence and power, making it a popular choice for various occasions. Whether it's a formal event or a casual outing, black outfits for men never fail to make a statement. The versatility of black allows it to be paired with a multitude of colors and patterns, enabling endless possibilities for creating fashionable ensembles.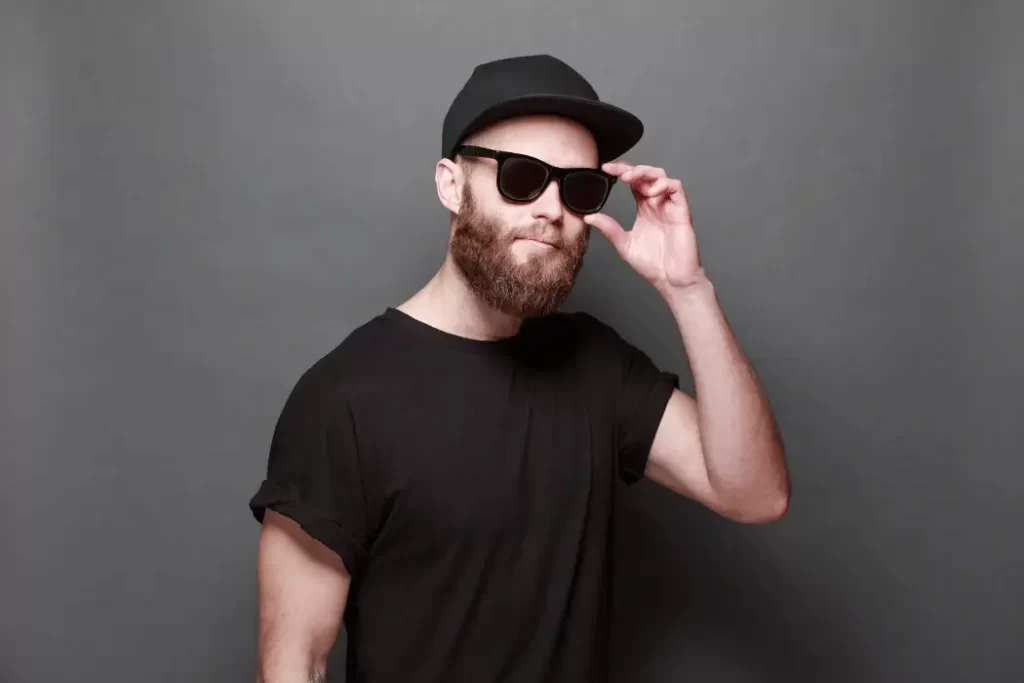 Essential Black Pieces for Men
Black Suit
A black suit is a cornerstone of men's formal wear. It epitomizes elegance and refinement, making it suitable for special events such as weddings, galas, and formal dinners. Opt for a well-tailored black suit that fits you perfectly to achieve a polished look. Pair it with a crisp white dress shirt and a black tie for a classic and sophisticated ensemble.
Black Dress Shirt
A black dress shirt is a versatile item that can be dressed up or down depending on the occasion. It can be worn with a suit for a formal look or paired with jeans for a more casual yet stylish appearance. Experiment with different textures and fabrics to add visual interest to your outfit.
Black Trousers
Black trousers are a wardrobe essential for men. They can be effortlessly paired with various tops and jackets, making them suitable for both formal and casual occasions. Whether it's a business meeting or a night out with friends, black trousers provide a sleek and timeless base for your ensemble.
Formal Black Attire
Black Tie Events
Black tie events call for the utmost elegance and sophistication. Opt for a classic black tuxedo with a satin lapel for a refined and dashing look. Complete the outfit with a white dress shirt, a black bow tie, and patent leather shoes. Remember, the key to a successful black tie ensemble is attention to detail and impeccable tailoring.
Business Meetings
In a professional setting, a black suit is a safe and stylish choice. Pair it with a light-colored dress shirt for a sharp contrast and add a patterned tie to inject personality into your outfit. Choose black leather shoes and a matching belt to complete the look. Remember to dress appropriately for the industry and the company culture.
Casual Black Ensembles
Street Style
Black clothing lends itself well to street style looks. Create a monochromatic outfit by pairing black jeans with a black t-shirt or a black leather jacket. Add white sneakers for a pop of contrast and accessorize with a statement watch or a beaded bracelet. This effortlessly cool look is perfect for casual outings and social gatherings.
Weekend Outings
For a laid-back weekend look, opt for black chinos or shorts paired with a casual black polo shirt or a graphic t-shirt. Layer with a denim jacket or a lightweight black hoodie for added style. Complete the outfit with comfortable sneakers or loafers. This ensemble strikes the right balance between comfort and fashion.
Accessorizing Black Outfits
Accessories play a crucial role in enhancing the appeal of black outfits. Consider adding pops of color with a vibrant pocket square, a patterned tie, or a statement belt. A sleek black leather watch or a silver bracelet can add a touch of elegance to your ensemble. Experiment with different accessories to express your personal style.
Maintaining Black Clothing
To keep your black outfits looking their best, proper maintenance is essential. Follow the care instructions on the garment's label and wash dark-colored clothing separately to prevent color fading. Invest in a lint roller or a fabric shaver to keep your black garments free from lint and pilling. Regularly inspect your black clothing for any signs of wear and tear and address them promptly.
Conclusion
The timeless appeal of classic black outfits for men is undeniable. Black clothing holds a special place in men's fashion, offering sophistication, versatility, and a sense of timeless style. Whether it's a formal affair, a casual outing, or anything in between, black outfits for men never fail to make a lasting impression. By incorporating essential black pieces into your wardrobe and mastering the art of styling, you can effortlessly exude confidence and elegance. So, embrace the power of black and elevate your fashion game with these timeless ensembles. Get ready to make a statement wherever you go, because black outfits for men are here to stay.
Frequently Asked Questions (FAQs)
Q1: Can black be worn in a professional setting?
Answer: Yes, black can be worn in a professional setting, especially in the form of a black suit or black trousers paired with a dress shirt and tie.
Q2: How can I add color to my black outfit?
Answer: You can add color to your black outfit through accessories such as pocket squares, ties, belts, and shoes. These pops of color can enhance the overall look and add visual interest.
Q3: Are black outfits for men suitable for summer?
Answer: While black absorbs heat, it can still be worn in summer by choosing lightweight and breathable fabrics. Opt for linen or cotton materials to stay cool and comfortable.
Q4: Can I wear black to a wedding?
Answer: Wearing black to a wedding is generally acceptable nowadays, but it's advisable to check the dress code and consult the couple's preferences.
Q5: How do I prevent black clothing from fading?
Answer: To prevent black clothing from fading, wash them inside out in cold water, use a gentle detergent, and avoid prolonged exposure to sunlight when drying.